About us
WHO WE ARE
We are a neutral data platform founded on the initiative of global industrial companies. Our goal is to structurally improve the basic data exchange and thus increase the transparency of shipment visibility in logistics.
logistics.cloud
is based on the technology of Lobster, a market leader in data integration and connectivity.
WHAT WE DO
Our fundamental belief is that networks and ecosystems are the next step in mastering industry-wide digitization. This is exactly what our groundbreaking technology makes possible. With
logistics.cloud
, you have the choice of using any industry standard such as EDIFACT or specific formats or channels such as e-mail or the Web. We are also actively driving next generation standards such as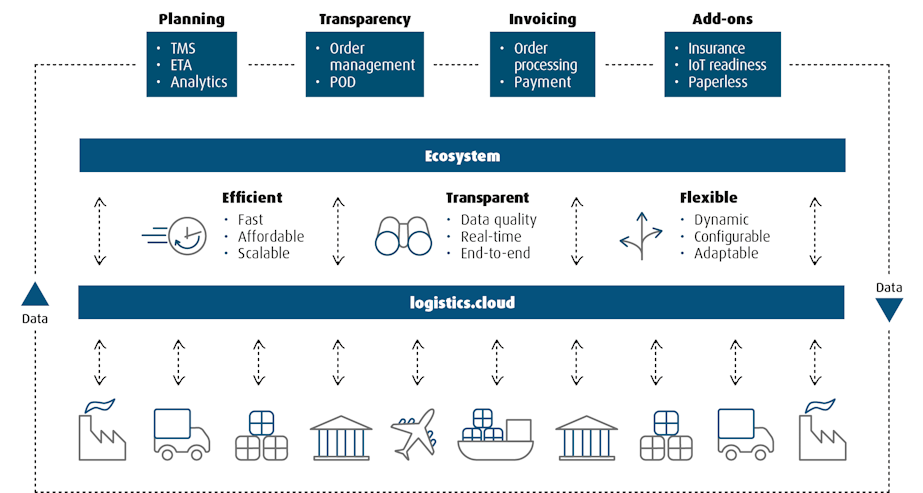 HOW WE WORK
Our world-class connectivity solution gives you the flexibility to switch from one data connection to another. The connection is so simple that you can easily plug and play with new supply chain partners. More than 20 shippers and over 50 logistics providers are already connected. A further 300 logistics companies are already logistics.cloud ready by using our product. We also configure existing special features with ease, using our no-code technology based on a graphical interface for data integration.
WE ARE NEUTRAL & RELIABLE
Many players already rely on our technology, such as world-renowned shippers, forwarders and carriers.
logistics.cloud
uses a standardized API scheme to receive the data and enriches it with real-time information to provide you with first-hand data.
OUR APPROACH IS INTEROPERABLE & AGNOSTIC
logistics.cloud
allows you to continue using all your existing systems (Messaging Broker, TMS, ERP, etc.). In addition, you can use the latest data from your supply chain partners or third-party data sources. This could be tracking status, IoT data, weather and traffic information, customs status or CO2 data. The use of mobile devices via HMTL5 is no problem, does not require any installation and also works for your service providers with a one-time link.
What are the benefits of using logistics.cloud?
We significantly reduce your EDI costs
We reduce the connection effort
We increase the speed of both the connection and the data exchange
We reduce the adjustment times when changing suppliers
We increase your data quality to 100%
We offer you openness for formats and data standards
We provide earlier availability of information
We increase your customer satisfaction
WHAT WE Offer
With logistics.cloud you can not only access important data faster. The big advantage is direct data on your shipments across multiple modes of transport (sea, air, road, etc.). This gives you information faster, more accurately and in greater detail, so that you can immediately identify and reschedule delays. Through our own and third-party algorithms, e.g. based on machine learning, we offer you the latest technologies, available today.
Our digital services marketplace is a third-party ecosystem to integrate your specific applications and enable you to offer and monetise them to others on a subscription model.
Find out what our platform users have to say about logistics.cloud